Paxil CR
Active Ingredient(s): Paroxetine
First Approved by the FDA: February 16, 1999
Pharmaceutical Company: GLAXOSMITHKLINE



Welcome to the Paxil CR information hub.
Scroll down to read supplemental details and discuss this drug.
Paxil CR Overview
Paroxetine (also known by the trade names Aropax, Paxil, Pexeva, Seroxat, Sereupin) is an antidepressant drug of the SSRI type. Paroxetine is used to treat major depression, obsessive-compulsive disorder, panic disorder, social anxiety, posttraumatic stress disorder and generalized anxiety disorder[1] in adult outpatients. Marketing of the drug began in 1992 by the pharmaceutical company SmithKline Beecham, now GlaxoSmithKline. Generic formulations have been available since 2003 when the patent ...

Read more
Paxil CR Details
Details May Include Instructions, Side Effects, Interactions, Etc.
Drug monograph is from Wikipedia. All text is available under the terms of the GFDL
(GNU Free Documentation License) | http://en.wikipedia.org/wiki/Paroxetine
weight gain
I have been on Paxil CR for 2 years and have gained over 80 pounds. The Dr. says Paxil is not the cause. Has anyone else had a problem like this? Also what is another drug I could try in place of the paxil?
Sunday, 10/2/2011 5:07:58 PM 7 Replies

Subscribe to thread 165245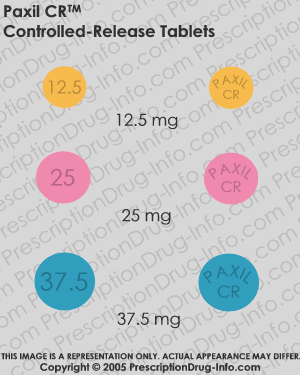 Possible Dosages for this and Related Drugs:
Paroxetine
Capsule: 10mg, 20mg, 30mg, 40mg
Suspension: 10mg/5ml
Tablet: 10mg, 20mg, 30mg, 40mg, 50mg
Tablet, Delayed Release: 25mg
Tablet, Extended Release: 12.5mg, 25mg, 37.5mg
Note: Above list includes dosages for all drugs with the same combination of active ingredients.
Other drugs which contain Paroxetine or a similar ingredient: (3 results)